Pharmacy Management System for wholesale and retail shops.
Medics Tech Solutions.
Medics Tech Solutions is an excellent Pharmacy Management System that stores data and allows functionality to maintain and organize the process within pharmacies. The system is an independent technology, particularly in use for pharmacies and hospital settings.
The system helps the pharmacy owners to make decisions based on the report that the system shows, such as expiration dates of drugs, the number of drugs that remain in the store and what to always keep in the store based on the top 10, 50 and 100 best sales drugs.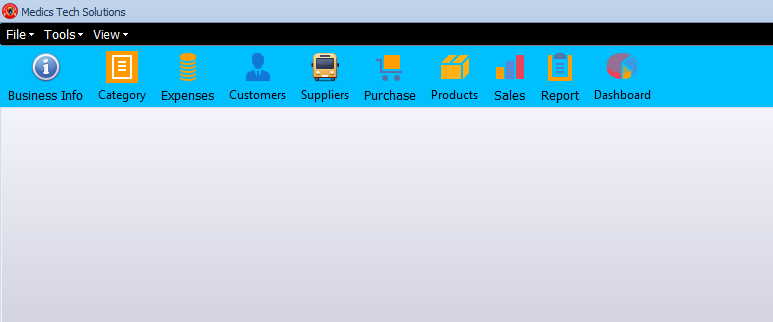 Features of the System
Sales: Records daily sales records
Purchases: Records purchases data
Products: Keeps records of all the drugs details such as quantity, buy and sales prices as well as profit.
Business Info: Keep track of the business important information like contacts, address, logo, Business name, Business TIN, etc.
Category: Records categories of drugs and Expenses.
Expenses: Keeps records of all the expenses of the medical store.
Customers: Keeps details of the customers for invoice printing.
Suppliers: Keeps records of the suppliers' details.
Report and Dashboard: Shows reports of all the modules listed above.
Backup and Restore: For backup and restore of the data.
Security: users' login and password features.
VAT: Values Added Tax model.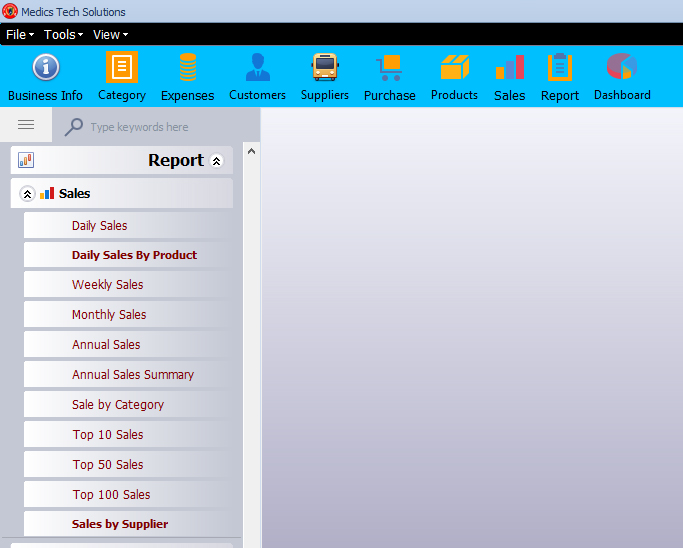 Advantage of the System
Easy to Use: Simple, easy to use and well-elaborated system interface for even novice users to utilize the system.
Reports: The system contains more than 20 reports to enable the pharmacy owners to make an informed decision when it comes to the management of their drug stores.
The following are key areas depicted in the reports;
Daily, weekly, monthly and annual sales with quantity sold as well profit accrued.

Sales by suppliers and categories of drugs.

Top 10, 50 and 100 best-selling products, products shown in these reports should always be available in the shop.
Annual purchases, indicating the quantity bought as well as the cost used.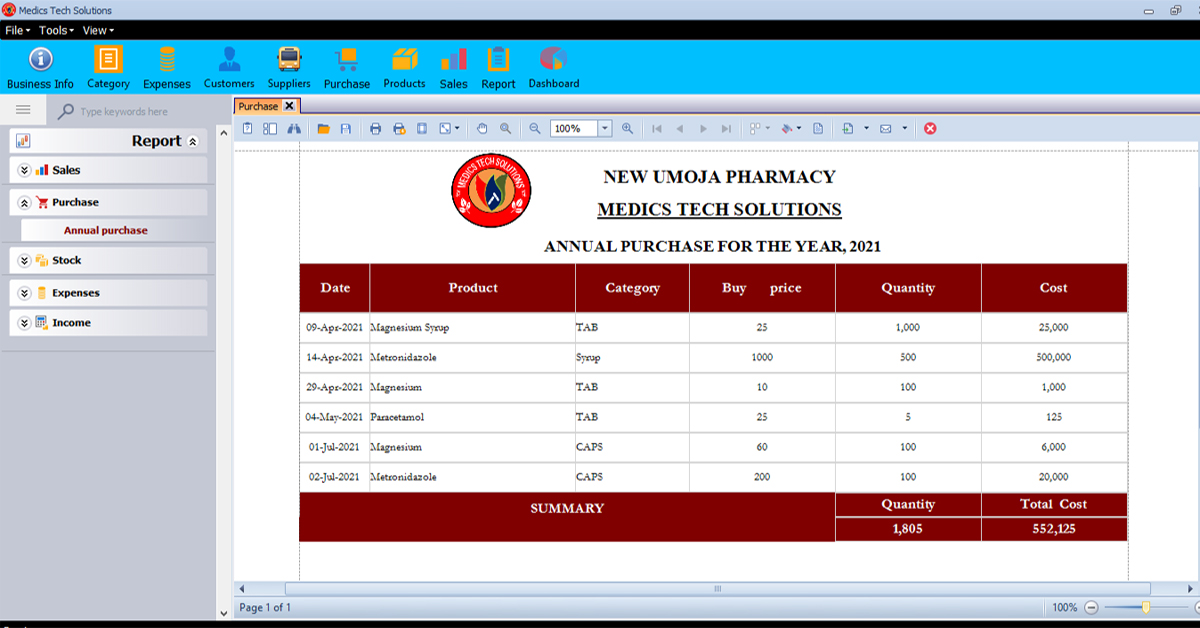 List of all products sorted alphabetically, with appropriate quantity, short description, category, suppliers, buy and sales prices, expiration dates in dates and days, product value at sales and buy prices.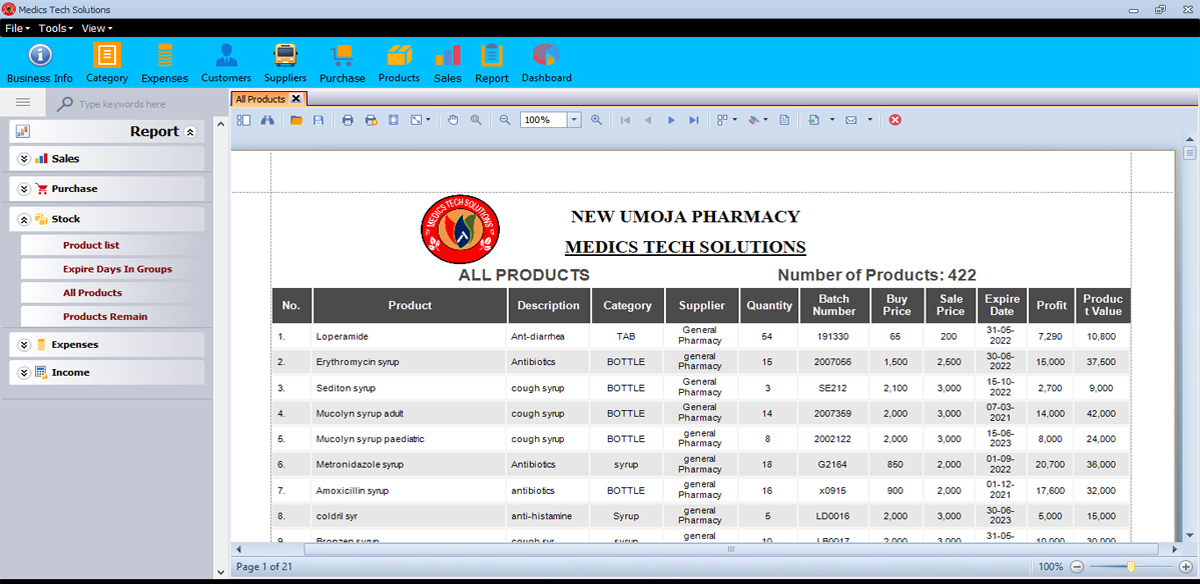 Expiration days grouped into four categories; Less than or equal to 30 days, above 30 and less than 90 days, less than or equal to 120 days and greater than 120 days.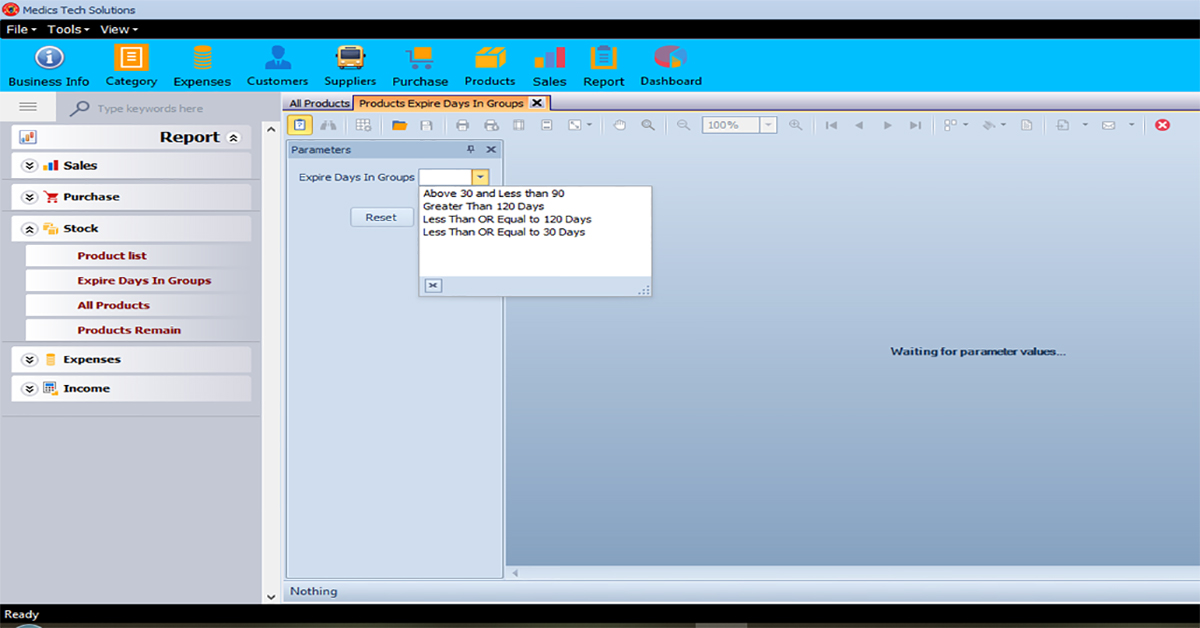 Quantity of products remain grouped in four groups; Less than or equal to 10, Less than or equal to 30, greater than 50, Less than or equal to 50 and Greater than 50.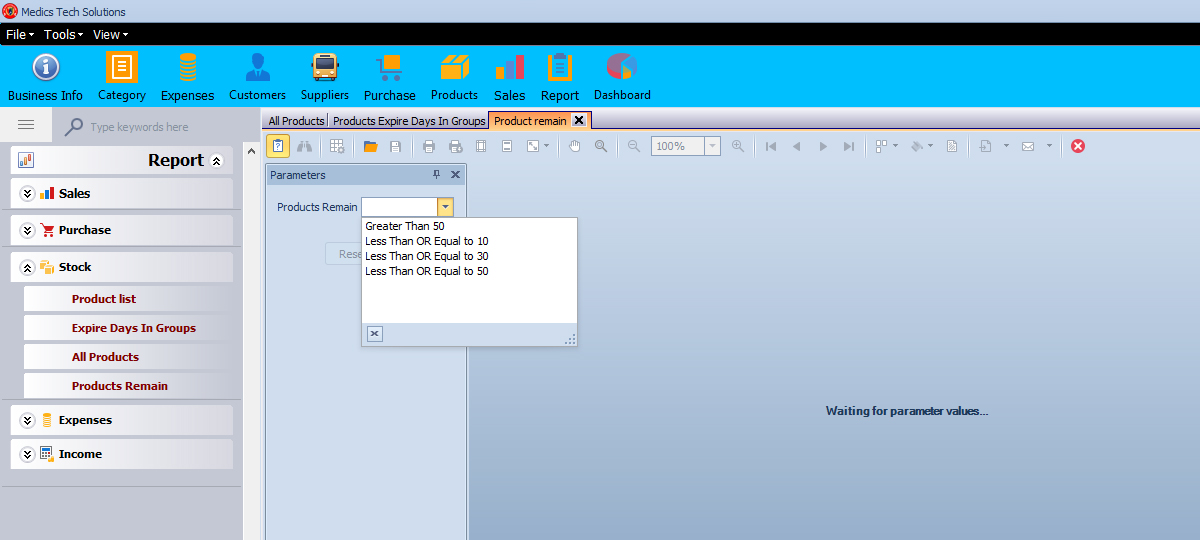 Annual and monthly expenses

Summary of sales, profit, expenses and purchases sorted annual and monthly.
COST: Tsh 300,000
The cost covers, Installation of the system and training for the users.
For any questions, use mob: 0784 675 425